Calorie Content: 421 calories (4 servings to a recipe)
Cost Per Serving: $2.62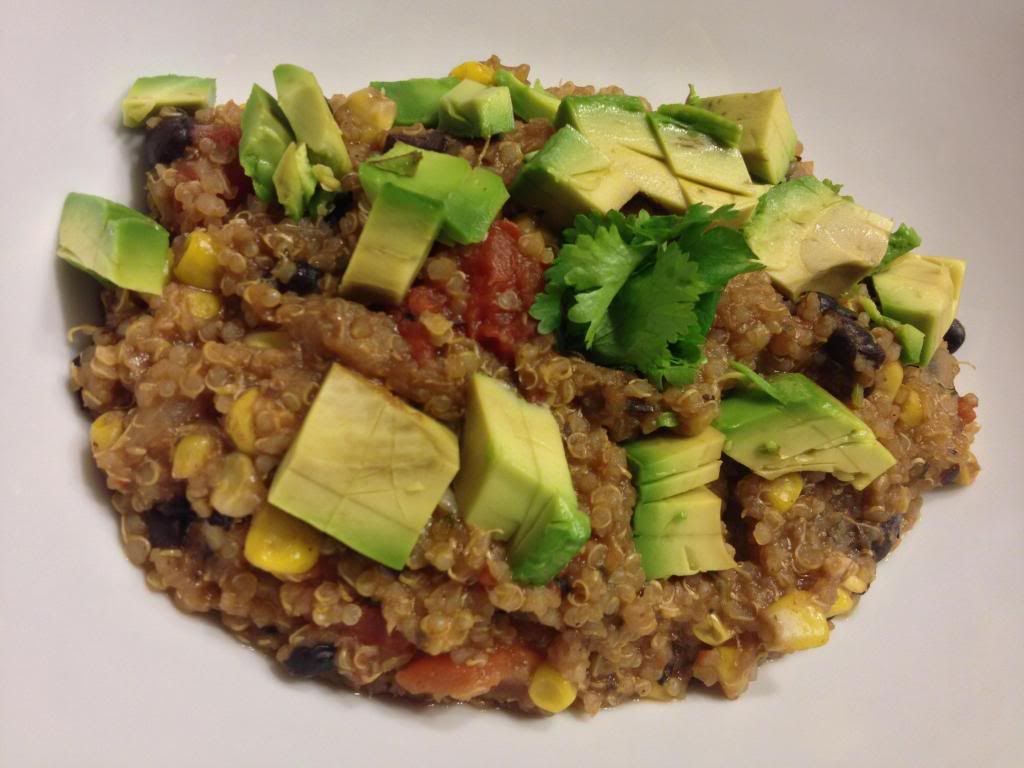 There are a lot of great quinoa recipes out there, and limitless possibilities for flavors. Last week when I made this, I was looking for something fresh and light that I could eat throughout the week. I was also trying to save some money, due to an upcoming trip to Formula One racing in Montreal, so I wanted to utilize ingredients I already had on hand.
I came across
this recipe
, and it serves as a good example of "fixing" leftovers. I made the recipe as written on the website linked first, did not like it, and then added the additional ingredients to turn it into something new! I saved money and saved the dish!
There are a lot of ways to reduce cost of this dish, for example, leaving off the avocado (organic ones are costly), stocking up on canned ingredients while on sale, omitting the tomatoes or using salsa instead, or even growing your own herbs.
Ingredients: (makes 4 servings)
1 tsp olive oil
1 red onion, diced
2 garlic cloves, minced
4 servings quinoa
vegetable broth amount described on instructions on quinoa container
taco seasoning to taste
salt and pepper
90 g frozen corn
1 can black beans, drained
1/3 bunch cilantro
1 can fire roasted tomatoes, drained
1 avocado, diced
2oz cheddar cheese (I used slices and just broke them up)
Heat oil in sauce pan and stir in onion and garlic, cook until lightly browned. Mix in quinoa, vegetable broth, corn, black beans and tomatoes. Bring mixture to boil, then reduce heat, cover and cook until quinoa is done.
Stir in remaining ingredients except avocado and taste it! Make sure the seasoning suits your taste. I dressed mine up with some taco seasoning. You may also want to use a squeeze of lemon or lime to add some acidity (I would have but didn't have any on hand). Top with avocado before serving.
**Dish can easily be reheated by cooking in saute pan with some vegetable stock until warmed through.
**A meat could easily be added to the dish for you meat eaters, I would slow cook whatever meat you prefer in taco seasoning or enchilada sauce.