Tonight my hairdresser mentioned Mac and cheese and I thought to myself...hmmm I could go for some of that. But without high quality cheese and some Gouda in my fridge, I wasn't about to do a simple Mac and cheese! In this recipe, I used additional ingredients to dress up some standard mild cheddar that I had left over from the weekend. There's always a way to make do with what you have lying around the house!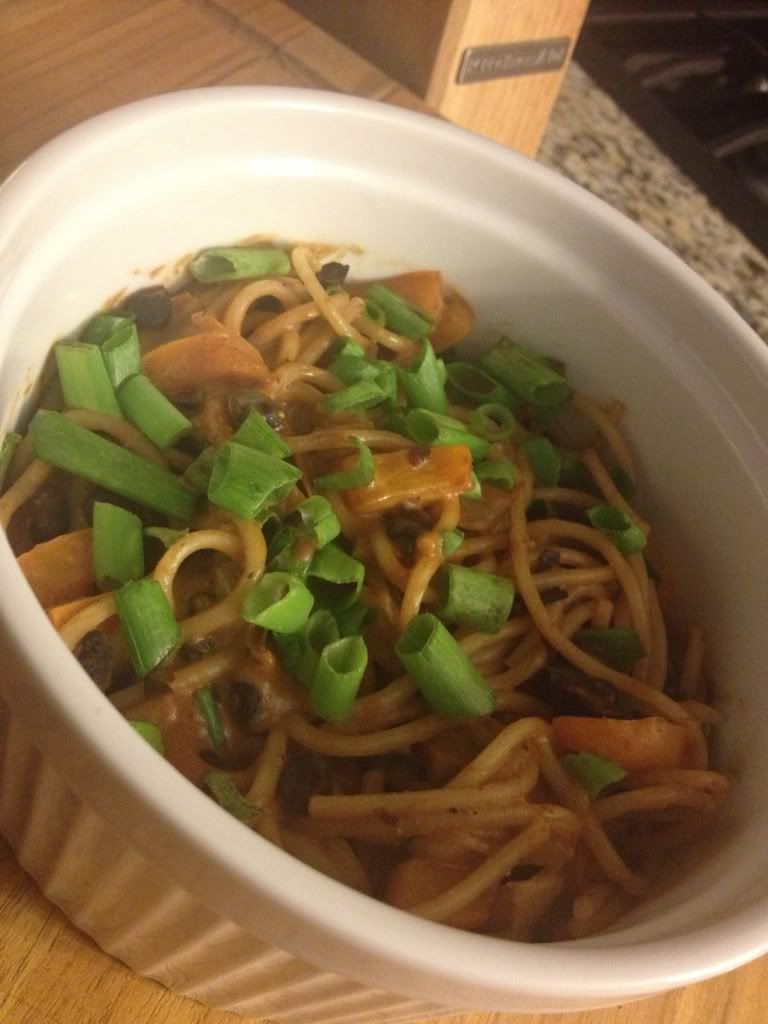 Baked Spaghetti and Cheese
Ingredients:
3oz pasta (cook according to directions, I used spaghetti because it was all I had)
20g sliced onion
75g orange pepper diced (could use any peppers, again, all I had was orange)
2tsp hot sauce
130g cooked black beans
30g sour cream
Scallions
1oz cheddar cheese grated
Adobo/paprika to taste
Preheat oven to 400 degrees. Sauté onion and peppers in a frying pan until soft. Mix in black beans and hot sauce, reduce heat to low and cover for 3 minutes. Shut off burner and mix in remaining ingredients including pasta. Pour mixture into an oven safe container and baked for 5 minutes or until top has reached desired crispness (I like some hard baked pasta but if you don't, you could bake for less time or forget the baking part all together)
The calorie content on this entire pan was 624 calories and I believe it was worth every one. That being said, I probably could have eaten 1/2-3/4 of this, and maybe even paired it with a salad and been more than satisfied.